Your outdoor space is unique, so we don't believe in cookie-cutter pricing. However, we can help you budget for your backyard renovation by showing you examples of various projects. We look forward to helping you create your dream outdoor space!
GET INSPIRED WITH OUR FEATURED designs:
Approximate price: $10,000
This small yet functional paver patio is large enough for a bistro table and a grill, instantly creating more living space right outside the back door. The patio features sawn Fox Valley stone and a sheet stepper pathway. This solution is perfect for small yards and can be designed with future growth in mind.
Approximate price: $12,000
Spacious enough for a large family dinner, this simple and attractive paver patio with a beautiful brick border will add substantial value and sophistication to your home. It easily accommodates a grill and dining area or a few lounge chairs to soak up the sun.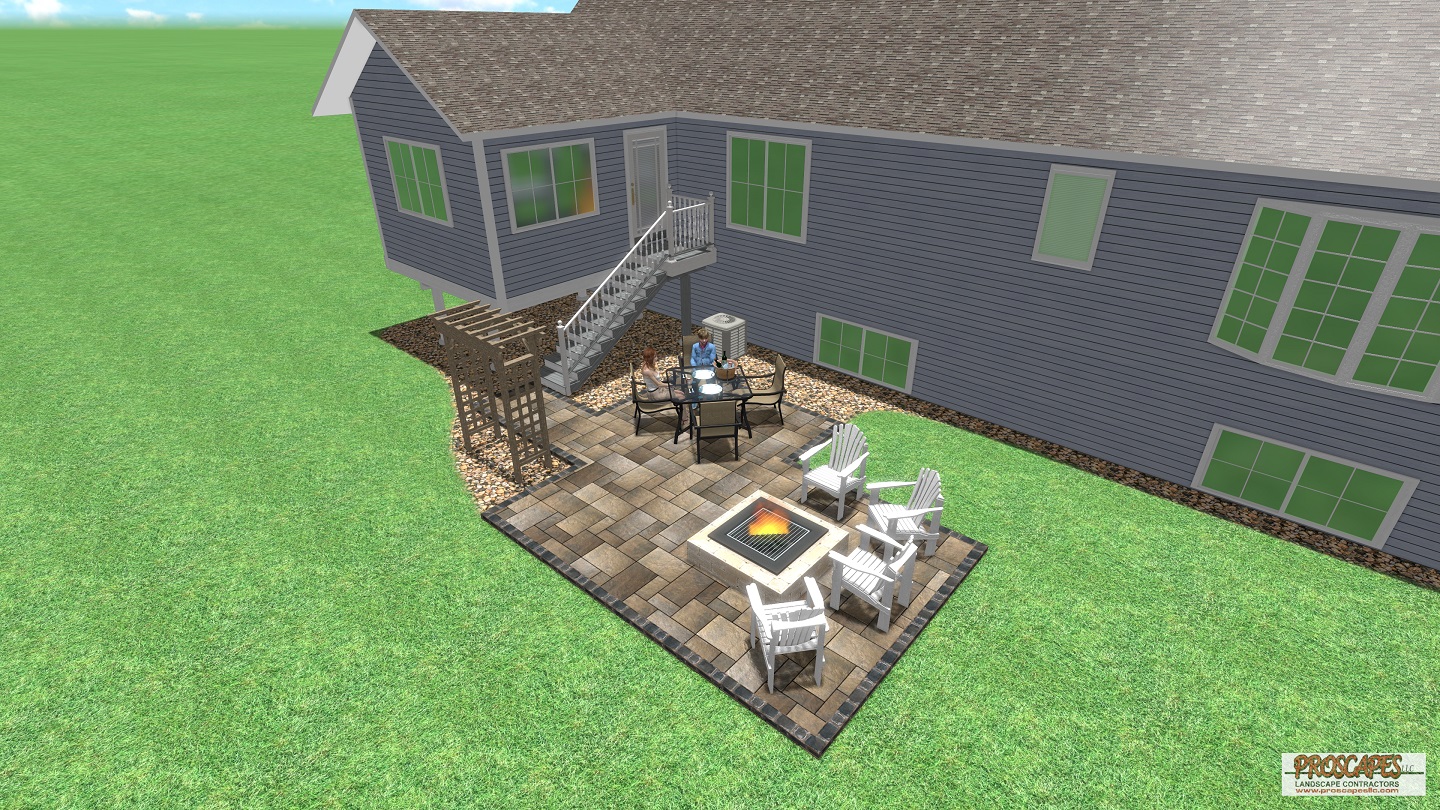 Approximate price: $15,000
This paver patio features a fire pit, small pergola, grill area and ample room for dining and relaxing in your own private backyard retreat. Its outward-reaching shape allows for creative landscaping and creates the sense that each space is its own 'room'.
Approximate price: $20,000
The highlight of this spacious outdoor living area is an eye-catching fire pit. This patio features a composite deck, two different types of pavers for visual interest and a budget-friendly wow factor that allows for plenty of self-expression in its design.
Approximate price: $30,000
This sophisticated paver patio features two distinct outdoor rooms: a spacious cooking/dining area and a relaxing fire pit area. The patio blends beautifully into its surroundings with a raised bed of greenery and a raised planter that doubles as a seat on the patio side.
Approximate price: $40,000
This covered porch features all the amenities you'd expect in your home: a comfortable fire-centered living room, spacious dining room, a convenient cooking area, and plenty of space to mingle or soak in a hot tub.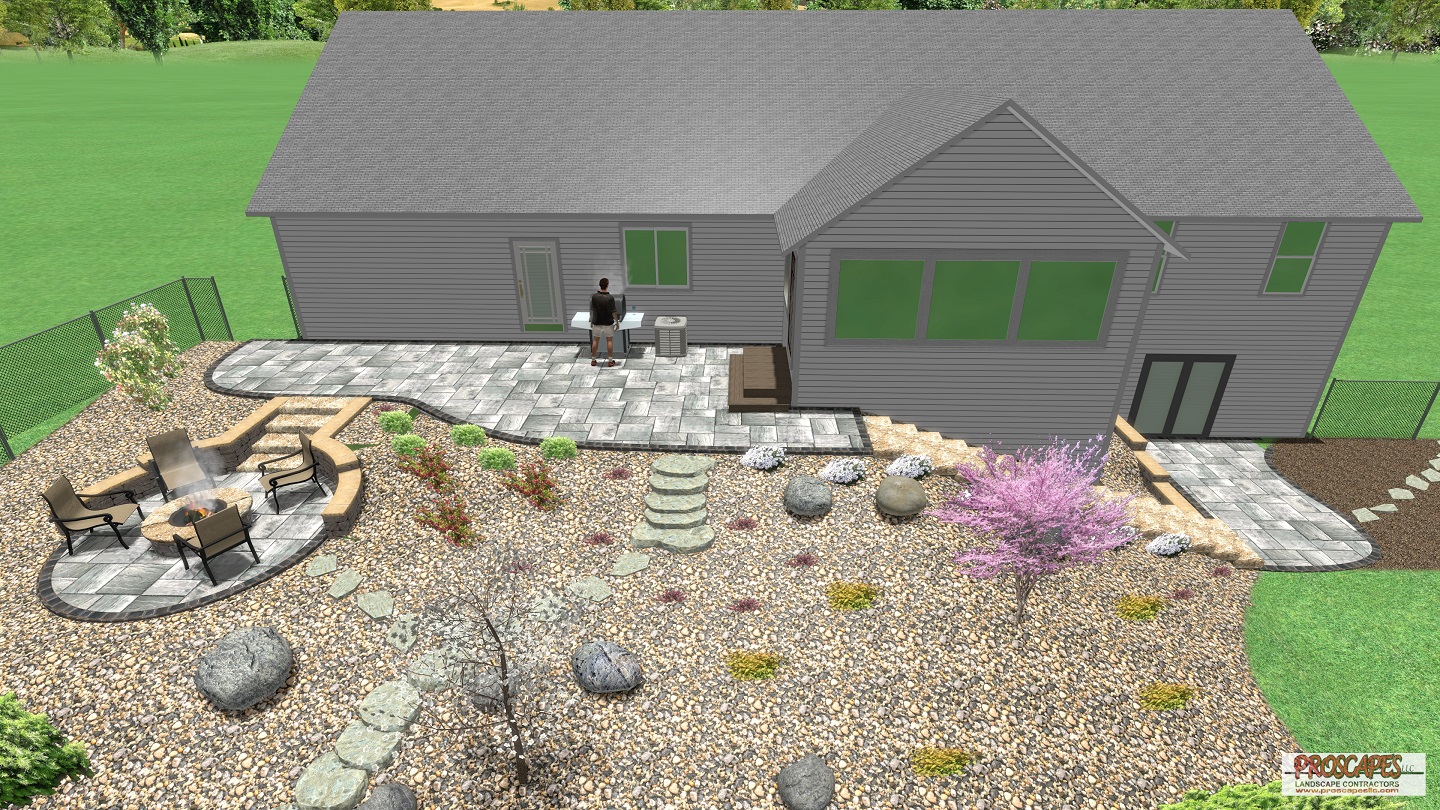 Approximate price: $50,000
A nature lover's delight, this outdoor living design features smaller interconnected paver patios that blur the line between indoors and out, and between the home and the landscape. These spaces will become even more beautiful as the landscape matures.
Approximate price: $60,000
An entertainer's paradise, this paver patio is designed for large gatherings. This outdoor "great room" is single expansive space for cooking in the outdoor kitchen, dining, relaxing, and sharing stories around the fire pit. A contrasting paver border encloses the patio and walkway, and defines the fire pit area and walkway. The project also included a professional grill and landscape lighting.
Approximate price: $70,000
This design offers plenty of options for entertaining: a spacious cooking area, a dining area shaded by a beautiful pergola, and a cozy fire pit and seating area. Two distinct paver types create visual contrast yet unify the spaces with walkways and integrate them into the landscape, and privacy screening plantings along the fence give a sense of enclosure to this unique entertaining space.
Approximate price: $80,000
This outdoor living space offers a hearty welcome to visitors with warm earth-toned pavers, a bar-front grill station, large dining area, and a fire pit area flanked by a curved seating wall. This design creates the ultimate entertaining experience in a beautiful setting. This project's unique features include Wifi controlled dimmable lighting, a retaining wall with a waterfall, and boulder fountains set in the pond.
Approximate price: $150,000
This naturalistic design is the ultimate in serenity. The intimate ground-level paver patio is enclosed on three sides to give a sense of privacy. The patio's warm paver colors and relaxed curved shape blend it beautifully into the landscape and create a sense of being in nature. This project's unique features also include a wetland filter on a large pond, a pondless waterfall, and a Wifi controlled lighting system.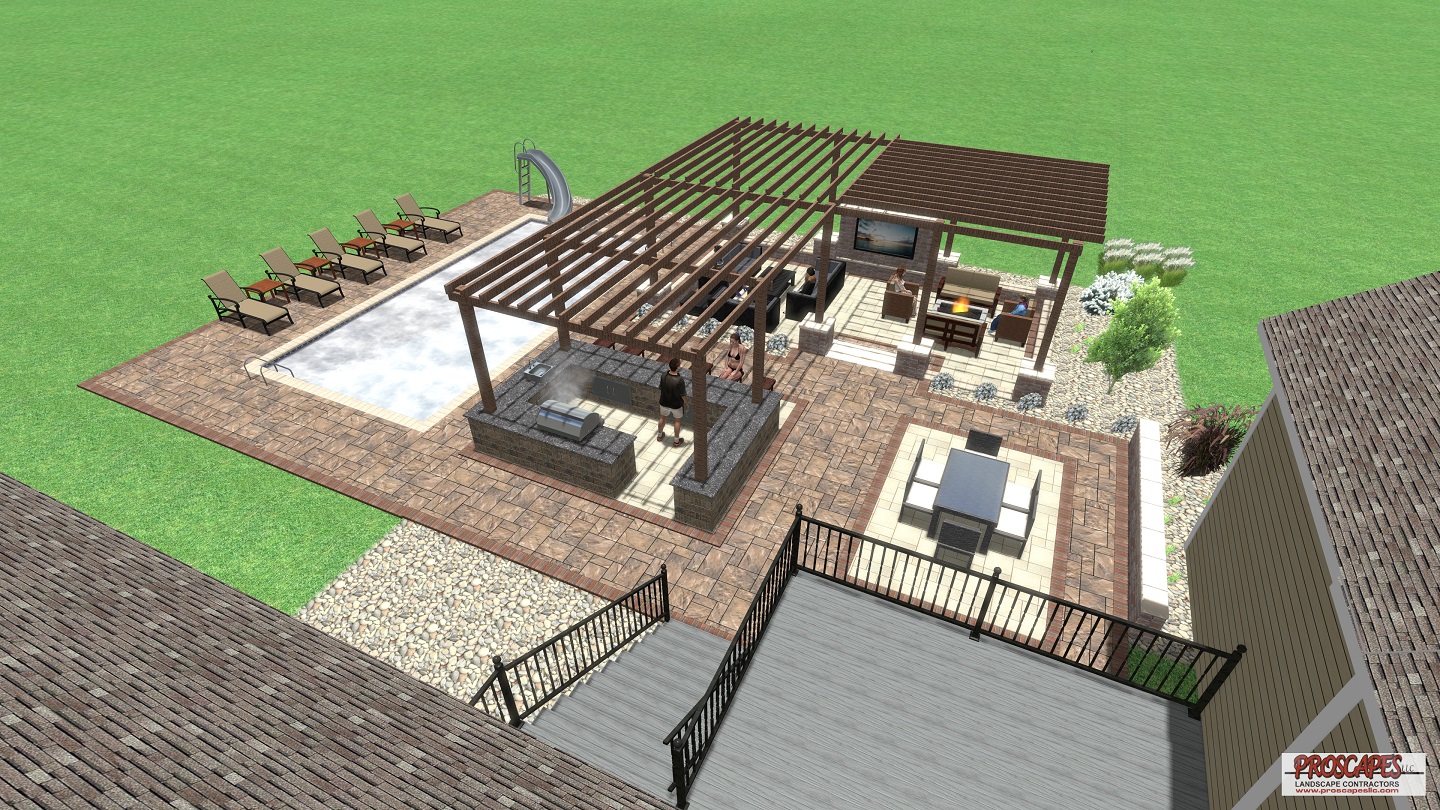 Approximate price: $170,000
This luxury dream backyard retreat has it all, whether you want to enjoy the sun, cool off in the pool (not included), or relax in the shade of an expansive pergola that also helps define distinct spaces - enclosing a large fireplace or center wall featuring an outdoor television, a sunken fire pit and lounge areas surrounded by seating walls. Nearby, you'll find a large outdoor kitchen with a spacious bar. Beautiful concrete pavers in warm tones give an upscale yet relaxed ambience.
Whatever your desire, we can create a magical landscape — whether you want to welcome visitors to your business or create the ultimate backyard retreat. This spectacular design features an aquatic wonderland with over 200 tones of weathered limestone, full color lighting system, remote pumps, 5 boulder fountains, and an IPE (Brazilian walnut) bridge.